Dr. Welch is a Board Certified Orthopaedic Physical Therapist with a Doctorate in Physical Therapy. He specializes in the evaluation and treatment of lower extremity injuries, with a sub-specialty in runners and endurance athletes.
Lee is passionate about his work as a physical therapist, and uses a unique and specialized approach to treating lower extremity injuries including hip, knee, foot and ankle pain as well as lower extremity strains and sprains. His goals are to get his patients feeling better quickly, and to assess and treat the root of the injury allowing complete healing and full rehabilitation. He also seeks to educate his patients and reduce the risk of further injury. Dr. Welch also has significant experience rehabilitating lower extremity post operative conditions.
Lee uses a multimodal approach to evaluating and treating lower extremity injuries runners and non-runners alike. This includes a comprehensive evaluation and formalized gait assessment. In addition, he incorporates a variety of skilled manual therapy techniques, dry needling, functional exercise, and biomechanical running re-education programs. Each program is personalized to each individual patient based on their personal presentation and history.
Lee has worked as researcher in the Running Assessment Clinic and the Human Movement Laboratory at ECU. He has extensive experience with gait analysis in runners. He has over a decade of experience performing both 2D and 3D biomechanical gait analysis.
Lee has spent years coaching and educating runners. Lee is a guest lecturer at ECU's Physical Therapy department in their Running Special Topics Course. Dr. Welch is well versed in the running literature and has published research and articles about running and has been featured on Nike and Runner's World where he has guest authored on running-related topics. Additionally, Dr. Welch worked for the Carolina Hurricanes during the 2011–2012 season.
Lee has been recognized as a physical therapist demonstrating dedication to the profession, for his academic achievement, and for a commitment to a career in physical therapy.
Lee also works in our baseball and running performance location, BYoung Physical Therapy Performance Center.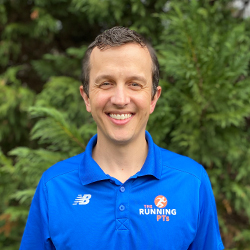 Physical Therapist Specialties
Board Certified Clinical Specialist in Orthopaedic Physical Therapy
Lower Extremity Injuries – Hip, Knee, Foot & Ankle Pain, Sprains and Strains
Running Injuries
Running Biomechanics Specialist
Instrument Assisted Soft Tissue Mobilization
Sports Medicine
Therapeutic taping (kinesio tape)
Custom Orthotic Fabrication
Back pain and SI Joint Dysfunction
Research & Publications
Honors & Awards
Student Academic Award
Outstanding Research Award
Quality Assurance Award
George Hamilton Scholarship for Academic Achievement Professional Organizations
Professional Organizations
American Physical Therapy Association, Member of the Orthopaedic Section
American Board of Physical Therapy Specialists – Orthopaedic Certified Specialist

"Lee exemplifies what it means to be a compassionate, educated, and dedicated physical therapist. As a runner himself, he understands the unique complexity involved when injury sidelines or otherwise interferes with training. With 6 weeks until the NYC Marathon, I strained my calf and could not bear to walk, let alone run. I feared the worst, but I immediately sought Lee's help and guidance. He worked with me to develop a comprehensive plan to get me back running again and with 3 weeks until the race, I was able to ease back into running. I crossed that finish line with no calf pain and an over ten-minute Boston Qualifying time! I continue to have no pain with my calf and give him all the credit in the world for helping me get to this point because I still have no idea how I was able to run a marathon so soon after that kind of an injury. After my race, he spent time reviewing some prehab work with me so I can keep myself healthy. I highly recommend any injured runner make his or her way over to see Lee and stop living with the pain. He made me a priority and I know he will do the same for you because he loves what he does and that is very evident in his work."
AMY S.
Contact Us
Please submit the following form and we will be in touch within one business day. Need immediate help? Call 919-803-3398.