Hayden is passionate about treating lower extremity injuries in runners, volleyball players, and all other endurance and power athletes. She is committed to not only understand "what" the root cause of the injury is, but "why" it is happening to prevent the chances of re-injury and allow for full rehabilitation through individualized and multimodal treatment.
A native to Cary, North Carolina, Hayden is extremely passionate about serving the community she grew up in. She has always been interested in working with athletes, specifically with lower extremity injuries, due to experiencing her fair share of injuries during her athletic career and seeing the benefit of physical therapy in recovery and injury prevention.
Hayden received her Bachelor of Science from North Carolina State University and went on to earn her Doctorate of Physical Therapy from East Carolina University. During her time at ECU, she had the opportunity to complete her graduate research on developing return to running programs for runners with hamstring tendinopathy who had undergone PRP injections and percutaneous tenotomy. She also was able to complete a clinical rotation at The Running PTs where she learned first hand what it takes to treat the injured runner. Since then, she has led numerous run form talks on injury prevention and run form to various running groups in the Triangle. She is trained in 2D gait analysis to efficiently assess run form and address its contribution to various running-related injuries. 
While Hayden often describes herself as a "late bloomer" runner, her true passion lies with volleyball. Hayden grew up playing both indoor and beach volleyball throughout high school and at the collegiate level, where she and her team won the 2017 NCVF D1 National Championship title for the first time in school history. She has also served as both a head and assistant coach to high school athletes playing at the club level. She stays well versed in current literature regarding jumping and landing biomechanics and their contributions to lower extremity injuries (hip, knee, foot and ankle sprains, muscle strains, overuse injuries, etc) as well as how to prevent them. 
Hayden understands and appreciates the demands both endurance and power athletes have to endure and is committed to delivering individualized treatment to help athletes at all levels stay healthy. She is committed to not only understand "what" the root cause of the injury is, but "why" it is happening to prevent the chances of re-injury and allow for full rehabilitation.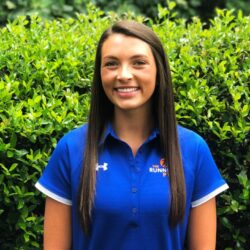 Running PT Specialties
Manual Therapy

Injury Prevention

Running Injuries

Gait Analysis

Functional Integrated Myofascial Release
Research
Effects of Physical Therapy After Tendon Ultrasound Guided Percutaneous Tenotomy and PRP Injection in Runners with Chronic Bilateral Hamstring Tendinopathy (Graduate study at East Carolina University, 2021)
Honors and Awards
Summa Cum Laude (North Carolina State University, 2018)
NCVF D1 Volleyball National Champion (2017)
NCVF Volleyball National Championship First Team All-American (2017)
Professional Organizations
American Physical Therapy Association

"Outstanding physical therapy and other services to keep you healthy and moving in whatever sport or activity you do. Brandon, Lee, and Erin are the best. Very accommodating hours, some nights and early mornings. Excellent and very clean facility in an easy location. Certified in dry needling and highly effective in using this. Recently added a truly incredible 3D running gait analysis system (with a highly trained physical therapist who specializes in this, Lee) so runners can finally get to the root of their problems by seeing computer generated images at every ankle and with extreme detail. I have been a runner for 30+ years and have always run high mileage. In spite of very few injuries, I plan to have the 3D analysis to help me run faster and to minimize injuries going forward."
MARY S.
Contact Us
Please submit the following form and we will be in touch within one business day. Need immediate help? Call 919-803-3398.