A runner herself, Kimberly has experienced first-hand how injuries can sideline an athlete. Kimberly enjoys involving each patient in the treatment plan to help reach and exceed patient goals.
Kimberly's interest in physical therapy began in middle school with the desire to work with an athletic population. She loves the drive and motivation that athletes possess to get back on the field, court, course and track. A runner herself, Kimberly ran high school track, but her true love for running started in 2012 when she trained for her first half marathon. It was at this time that Kimberly caught the "running bug" and continued on to train for her first full marathon (Marine Corps) in 2013. Kimberly ran her second full marathon (Tobacco Road) in March 2022, thanks to the motivation from her running group, Triangle Run Smart Training. Additionally, Kimberly has completed ten half marathons and many other shorter races…and this number continues to grow!
Kimberly is a graduate of James Madison University with a BS in Health Sciences and earned her Doctorate of Physical Therapy degree from SUNY Upstate Medical University in Syracuse, NY.  She values that the PT profession requires a commitment to lifelong learning. Kimberly is passionate about injury prevention through patient education. She encourages her patients to take an active role in their rehab process to learn about their injuries. Kimberly's practice philosophy embodies a combination of manual techniques and exercises to restore proper movement to meet patient goals. She strives to teach patients how to maintain optimal function after PT treatment has concluded.
Kimberly was previously a fitness instructor with Fit4Mom and quickly learned that she is a stickler for correct form and movement. She grew to further appreciate exercise as part of daily life and the importance of motivating others to achieve their goals. Kimberly's clinical background includes orthopedics, sports medicine, geriatrics and home health care. She has experience working in outpatient orthopedic clinics elsewhere and was specifically drawn to the uniqueness of The Running PTs. She loves the focus and attention that is provided to each patient who walks through the door. She finds that they feel valued as they are treated one-on-one from a skilled DPT.
Kimberly was raised in Upstate New York and moved to Northern Virginia after graduate school, where she met her husband, John. They moved to the Raleigh area in 2014 and have two busy boys.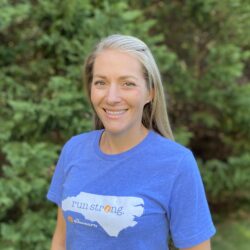 Running PT Specialties
Manual Therapy
Injury Prevention
Running Injuries
Functional Integrated Myofascial Release
Professional Organizations
American Physical Therapy Association

"The whole team at the Running PTs is so knowledgeable and personable! Every time I am there I feel like I am their only patient for the day and I get top notch care. They have helped me get back in to running and training hard after on and off knee/hip injuries for a year. I see Bry every week for maintenance work right now and their dry needling is unbeatable!"
MIKAYLA R.
Contact Us
Please submit the following form and we will be in touch within one business day. Need immediate help? Call 919-803-3398.