Melissa comes to the Running PTs having completed an orthopedic residency program and five years of clinical practice in outpatient orthopaedics. Combining her personal experience and passion for running with her professional experience, Melissa finds joy in helping athletes overcome injury and accomplish their goals.
Melissa is a native to the area, born and raised in Raleigh, staying in-state to complete her Bachelor's degree in Exercise Physiology and her Clinical Doctorate in Physical Therapy at East Carolina University. She then went on to complete an online-based residency through Evidence in Motion that enabled her to become a Board Certified Orthopaedic Clinical Specialist. She has had five years of experience in an outpatient orthopedic clinic before joining the team at The Running PTs, giving her a broad base of clinical knowledge in managing post-operative rehabilitation, lower extremity injuries, and a variety of other musculoskeletal conditions that affect the athlete and non-athlete alike. 
Melissa grew up playing soccer competitively but transitioned to become a runner her junior year of college. She has completed races of varying distance (ranging from 5k to 50k) over the past few years, developing a personal and professional passion for long-distance running and endurance sport. During her time in PT school she volunteered with a local run club to help lead a couch-to-5k group, providing education on injury prevention, and has continued to volunteer with local running groups in the area as a mentor for athletes training up to complete newer, longer distances. 
Melissa's strategy to treating the injured athlete is comprised of an individualized, evidence-based approach that includes skilled, hands-on manual techniques, targeted exercise prescription, and education to aide return to sport and to help athletes become stronger and more resilient.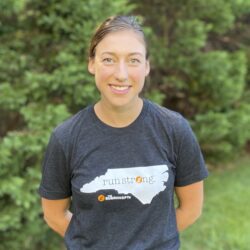 Physical Therapy Specialties
Board Certified Orthopedic Clinical Specialist, March 2020
APTA certified clinical instructor, July 2020
Dry Needling Certification, August 2019
Research & Presentations
Capstone Research Project investigating the "Correlation between chronic low back pain, Lower extremity strength asymmetries, and balance deficits (2017)"
Honors & Awards
Value Excellence Award (2021) – Demonstration of clinical excellence, service with passion, and treatment with integrity

American Physical Therapy Association 

"Highly recommend The Running PTs for any sports related injury or recovery! I started working with them while I was training for my first marathon and the care I received from them was invaluable in getting me to the start and finish lines. Since then, I have continued to receive care for shoulder, back, and hip issues that were unrelated to running and can tell my body has been improving in mobility and strength for my hobbies, as well as day to day activities."
MELISSA P.
Contact Us
Please submit the following form and we will be in touch within one business day. Need immediate help? Call 919-803-3398.