Dr. Koenke has extensive knowledge of lower extremity and running related injury through years of clinical practice. Through personal participation in CrossFit, attaining her USA weightlifting coaching certification, and being Barbell Rehab Method (BRM) certified, Dr. Koenke as developed a sub-speciality in the evaluation and treatment of the CrossFit, Olympic weightlifting, and powerlifting athlete. Dr. Koenke practices out of our BYoung Physical Therapy Apex/Holly Springs location. 
Erin is a doctor of physical therapy, a USA weightlifting coach, and an athlete. She competed at the collegiate level in cross country, indoor and outdoor track. Since completing her graduate education, she has continued to compete in 5k, 10k and 1/2 marathon road races, along with sprint triathlons. Erin also participates and competes in CrossFit – to which she qualified for the CrossFit quarterfinals for the past two years. Her consistent participation in a variety of sports has helped her to expand her appreciation and understanding of the varying demands of any athlete.
Erin's background of training and competing at the collegiate and recreational level has helped her develop and understand the mindset of an athlete. Through a detailed orthopedic assessment, functional assessment and biomechanics analysis, Erin uses a variety of manual therapy techniques, in conjunction with neuromuscular re-education, functional integration, and individualized exercises to address the source of the injury and return patients to the activities they love to do.
Erin caters her numerous continuing education courses toward mastery of manual therapy techniques and assessment skills, along with specific treatment of athletes (primarily runners, CrossFitters, Olympic weightlifters, powerlifters, and triathletes) and other orthopedic related conditions. Erin is also highly skilled in her 2D and 3D assessment of the endurance runner, along with 2D assessment of Olympic weightlifting and powerlifting. She utilizes these skills to find the root of the underlying issue.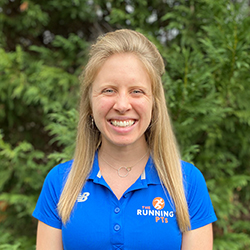 Physical Therapy Specialties
Level 1 USA Weightlifting Coach
Barbell Rehab Method Certified
Running, CrossFit, Lifting Injuries
2D/3D Running Assessment
2D Olympic Weightlifting/Powerlifting Assessment
Injury Prevention
Research & Presentations
Effectiveness of Physical Therapy in Reducing Dizziness and Balance Dysfunction in Personal with Symptomatic Concussion: A Systematic Review (Graduate study at Chatham University, 2015)
Running Injury Prevention Seminar (2016)
Honors & Awards
Indoor Track and Field Champion Scholar (2012/2013)
Academic All-American (2012/2013)
Presidential Scholar (2011–2013)
Professional Organizations
American Physical Therapy Association

"Outstanding physical therapy and other services to keep you healthy and moving in whatever sport or activity you do. Brandon, Lee, and Erin are the best. Very accommodating hours, some nights and early mornings. Excellent and very clean facility in an easy location. Certified in dry needling and highly effective in using this. Recently added a truly incredible 3D running gait analysis system (with a highly trained physical therapist who specializes in this, Lee) so runners can finally get to the root of their problems by seeing computer generated images at every ankle and with extreme detail. I have been a runner for 30+ years and have always run high mileage. In spite of very few injuries, I plan to have the 3D analysis to help me run faster and to minimize injuries going forward."
MARY S.
Contact Us
Please submit the following form and we will be in touch within one business day. Need immediate help? Call 919-803-3398.